Exercise Design Students Conduct 'Road 2 Resilience' Exercise
---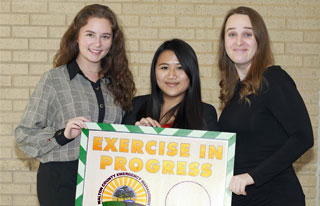 20 Nov 2019
Walton County, Florida
This week Professor Rob McDaniel and the students from the FSU Exercise Design class conducted a tabletop exercise in collaboration with Walton County Emergency Management. Road to Resilience focused on the recovery phase after a disaster, something rarely at center stage in emergency management exercises. Another unique aspect of this exercise was the all-female design team, consisting of Katelyn White, Leah Pearce, and Adrianna Tran. Over the course of the semester, these ladies designed, organized, and coordinated the exercise under the direction of Professor McDaniel. The exercise was attended by over 150 participants from Walton County's local government and private sector and touched on topics of post-disaster housing, social services, economic recovery, and infrastructure redevelopment.
EMHS Students Recognized by US Embassy in Panama
---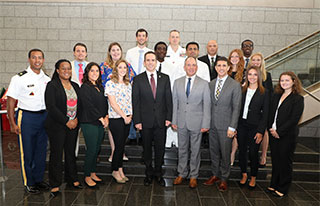 17 July 2019
Professor Duggleby and his students were recognized on Embajada de Estados Unidos en Panamá's Twitter account recently. Students of the inaugural FSU International Programs Intelligence Studies Immersion study abroad trip had the opportunity to tour the U.S. Embassy in the capital city, meet with Embassy leaders and officials, and learn the intricacies of U.S.-Panama relations. Students of the program had another week in the country with staff member Abby Kinch who lead an intensive and immersive course on intelligence analysis.
Post Maria UAS Projects in Puerto Rico
---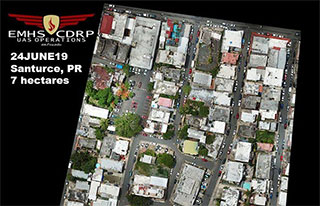 17 July 2019
EMHS faculty and staff met with Marina Moscoso and other potential partners to discuss the Casa Taft 169 project at Casa Taft in Santurce, PR. Casa Taft 169 is a community-based organization dedicated to addressing the increasing problem of abandoned properties in Puerto Rico post-hurricane Maria. Ms. Moscoso presented participants with a map of the Machuchal neighborhood in Santurce, PR, and detailed the areas of interest for potential UAS or other student projects. A walk was taken of the Machuchal neighborhood to get a sense of the operating environment and to scout potential locations for UAS operations. A 7 hectare proof of concept flight was flown over a section of the neighborhood so that EMHS researchers could provide Ms. Moscoso with a data set sample. A fully rendered orthomosaic map was delivered for evaluation.
EMHS Students at NEMA Mid-Year
---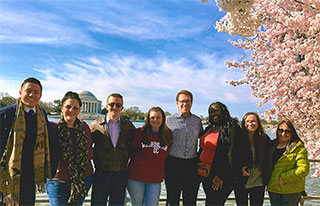 29 March 2019
We want to congratulate our EMHS students who were awarded scholarships to attend the 2019 NEMA Mid-Year Forum in Washington, D.C. To be considered for this scholarship students had to submit an application with an essay, participate in a series of interviews with our faculty and staff, and complete a six-week training course. Six winners were chosen to attend this NEMA event: Deja White, Omar Pimentel, Max Hoffman, Cooper White, Allison Haney and Tori Lanter. They were accompanied by Abby Kinch and Sue Sullivan. Attendees assisted NEMA staff with notes and social media, but also had the opportunity to network with state and federal officials, participate in committee meetings and ad hoc policy discussions, and engage in meaningful workshops salient to current issues in emergency management and homeland security. These students, along with past participants, have earned job offers, internship offers, and opportunities to engage with mentors. The NEMA Annual Forum will be hosted in Coeur d'Alene, ID from October 26th to 29th, 2019. Applications for this trip will open on Monday, September 2, 2019. For more information, please contact Bobby Duggleby at bduggleby@em.fsu.edu.
More Student Opportunities at JIATFS
---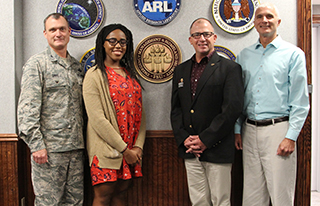 11 December 2017
Key West, Florida. Professor Robert Duggleby recently traveled to the Joint Interagency Task Force - South, to meet with the organization's leadership and discuss the FSU/EMHS internship program. As a result of the outstanding past performace of our students, EMHS will now be able to place two interns there every semester. Pictured alongside some of the JIATS leadership team is current FSU/EMHS student Bethany Smith and Professor Duggleby. Read more about the EMHS internship program.
Bloodhounds in the Classroom
---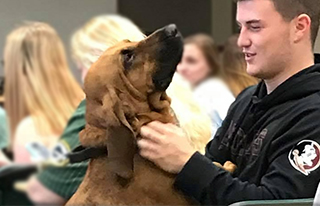 25 October 2017
Our Homeland Security course instructors hosted Find-M' Friends, Inc., a nonprofit organization focused on the use of scent tracking dogs to assist in the return of lost or abducted children and adults with Alzheimer's, etc. Students learned about how bloodhounds are used in law enforcement and missing persons cases; some students even had the opportunity to participate in a practice exercise and run with the hounds in search of other students who were acting as "targets." This was a fantastic learning opportunity for our students, and we look forward to the next time we can host Find-M' Friends and their amazing dogs!
Advanced UAS Training at FSFC
---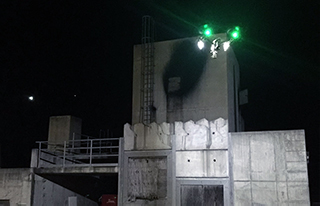 20 October 2017
The EMHS/CDRP UAS team conducted an "Advanced UAS Operations for Public Safety" training at the Florida State Fire College, October 16-20, 2017. This week-long course combined in-class instruction with outdoor activities that reinforced classroom learning and gave particpants real-world experience using new tactics and procedures. Student activities included technical recon over a "visual obstacle course," advanced search techniques and an assortment of night flight missions. A huge thank you to our friends at the FSFC and to all the UAS teams that attended from all over the US. Public organizations or individuals interested in attending future events or having an event custom tailored to their industry can contact info@em.fsu.edu for more details. Pictured: a DJI Inspire 1 with LumeCubes flies outside a burn building simulating the search for victims inside.
EMHS UAS Team Provide Aerial Support with ACFR at Spencer Event
---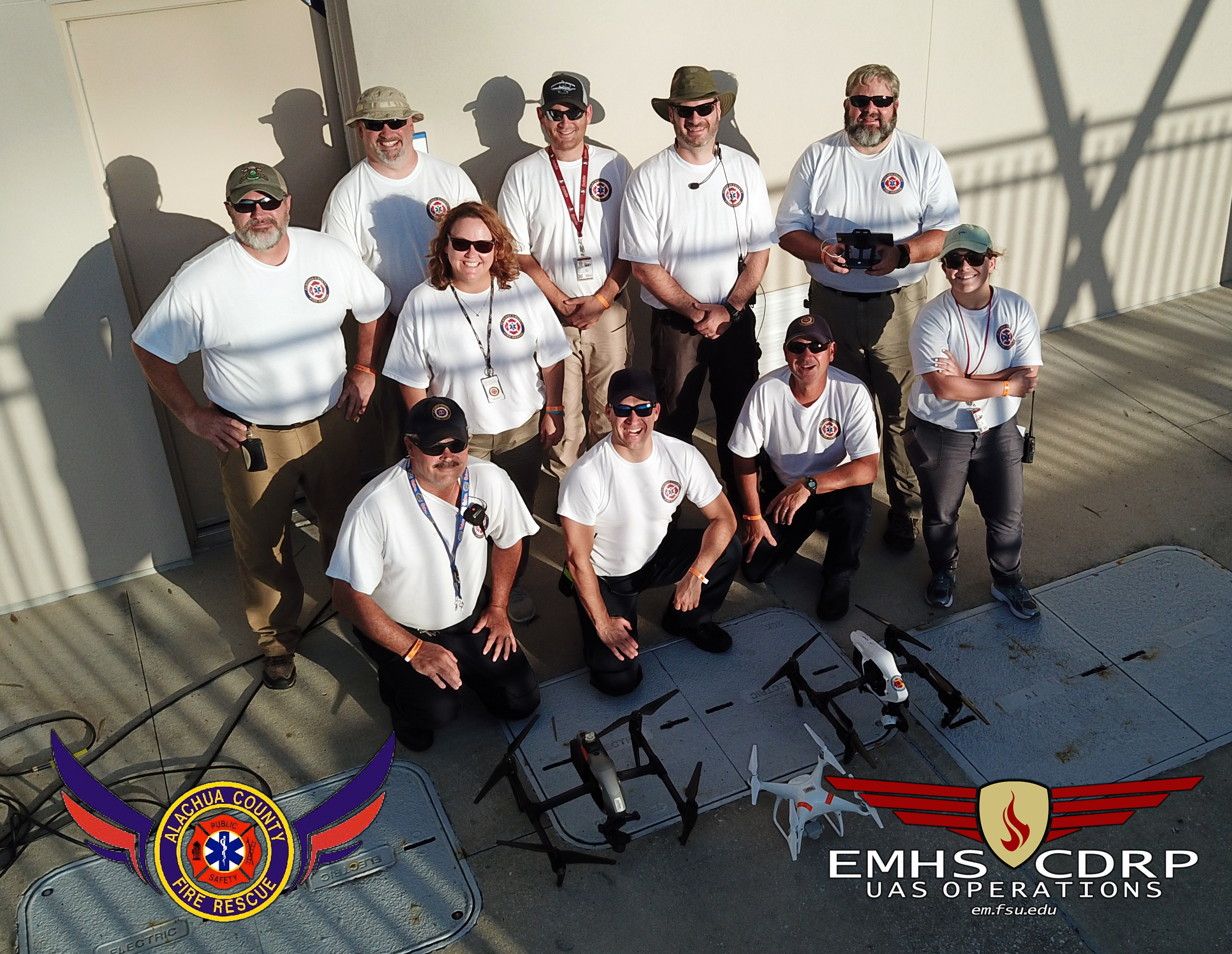 19 October 2017
The EMHS/CDRP UAS Team was requested by Alachua County Fire Rescue to assist in providing aerial situational awareness support for medical response during the Richard Spencer event on the University of Florida campus. Recent events of a similar nature have sparked violent protests outside the venue. EMHS faculty, staff and students, in conjunction with ACFR's UAS team, jointly ran 34 continuous overflight missions that assisted decision makers in the unified command center. UAS teams communicated directly with manned aviation assets in the area to deconflict airspace and ensure the safety of everyone involved. At the height of activity, UAS teams were simultaneously flying four UAS assets with five manned rotary aircraft and two manned fixed wing aircraft over the same airspace. EMHS is very grateful for the opportunity to help ACFR and the handful of other public service agencies that contributed to promoting safety at this event.
EMHS Receives NSF Grant
---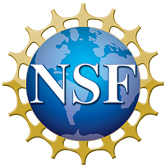 21 September 2017
The Emergency Management and Homeland Security program was awarded its first National Science Foundation grant for the project: "RAPID: Collaborative Research: Unmanned Aerial System Datasets from Hurricanes Harvey and Irma" under the direction of David Merrick and in collaboration with a separate proposal from Texas A&M Center for Robot-Assisted Search and Rescue (CRASAR) under the direction of Dr. Robin Murphy. This grant will help fund research aimed at organizing and cataloging digital media collected by the EMHS/CDRP UAS Team, CRASAR and others during their deployments for hurricanes Harvey and Irma.
The year-long RAPID project will organize unmanned aerial system (UAS) data from 119 flights taken after Hurricane Harvey and 247 flights post Hurricane Irma. Initial tasks to be completed as part of this project include screening for personal privacy identification and compliance with applicable state laws. Other activities will include hosting a virtual workshop to introduce the dataset and access procedures for researchers that wish to work with this data. A follow up workshop will be held at the 2018 IEEE International Symposium on Safety Security and Rescue Robotics to discuss the results of the research using these datasets and how to acquire datasets in the future.
EMHS Hurricane Irma Activations
---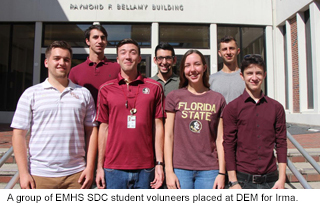 19 September 2017
The FSU Emergency Management and Homeland Security (EMHS) Program was activated by the Florida Division of Emergency Management to support the statewide Hurricane Irma preparations.
The Irma activation included recruiting student volunteers as part of the Student Disaster Corps (SDC) run by EMHS. Nearly 40 EMHS students were placed as disaster volunteers with the Florida Division of Emergency Management (DEM), the Florida Department of Health (DOH), and Volunteer Florida. Student volunteers worked around the clock supporting organization hotlines and helping enter shelter management data.
FSU EMHS also runs the critically important Virtual Operations Support TEAM (VOST) which tracks trends and rumors about Hurricane Irma on social media. The VOST team flags potentially dangerous or erroneous information and passes it to officials who can address any misinformation. Supervised by EMHS staff, students also monitor social media reports concerning gas shortages, traffic problems, power outages, and individuals needing assistance. The information is compiled to DEM in situation reports, providing a citizen level perspective. EMHS faculty, staff, and students worked directly with DEM officials in many capacities at the State Emergency Operations Center in Tallahassee.
The small drones, or Unmanned Aerial Systems (UAS) Team, just returned from Texas where they were mapping Houston after Hurricane Harvey. Now back in Florida, the EMHS UAS team was activated to assist with the State Emergency Response Team Air Operations mission in order to facilitate airspace coordination, communication, and integration.
Finally, the EMHS UAS Team deployed to South Florida following landfall of Hurricane Irma. The UAS team was tasked with supporting urban search and rescue operations, as well as working directly with FEMA to conduct damage assessments of impacted areas.
Student Disaster Corps (SDC)
---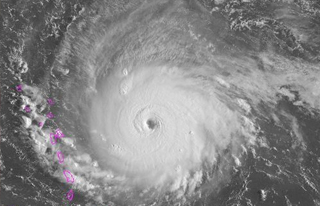 05 September 2017
The EMHS Program is seeking out current FSU EMHS students to participate in a new volunteer opportunity to assist the State of Florida Division of Emergency Management in its Hurricane Irma activation. This opportunity is known as the Student Disaster Corps (SDC).
Student volunteers will be asked to join DEM officials in the State Emergency Operations Center and assist in any ways necessary. If you are looking for real-world experience in emergency management, it really doesn't get any better than this.
If interested, please e-mail disastercorps@em.fsu.edu 
EMHS Internships with JIATFS
---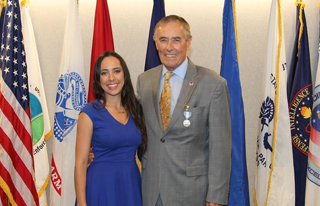 6 June 2017
The Emergency Management and Homeland Security (EMHS) program at Florida State University is excited to announce a unique internship opportunity with the U.S. Southern Command's Joint Interagency Task Force South (JIATFS) in Key West, Florida. A critical Department of Defense organization, JIATFS is a U.S. led joint, interagency and multinational task force that executes detection and monitoring of illicit trafficking across all domains, and facilitates international and interagency interdiction to enable the disrupting and dismantling of converging threat networks in support of national and hemispheric security. Florida State's EMHS program has solidified an agreement with the task force to embed a student intern within the command on a continuing basis throughout each academic year. Our first student intern, Ms. Kristina Le Blanc, arrived at the command on September 19, 2016, and will serve there through June of 2017. Kristina is working in the directorate for International Affairs, capitalizing on her diplomatic and Spanish language skills while facilitating visits and senior level meetings between the Latin American partners and U.S. officials. Students beginning their summer internships have just arrived in Key West, and are acclimating to their new positions within the command. EMHS is currently working on future additional internship opportunities at JIATFS for our students and is extremely enthusiastic for what is becoming a wonderful partnership between Florida State University and JIATFS. Students interested in internship opportunities should read about our Internship Program.
New Website
---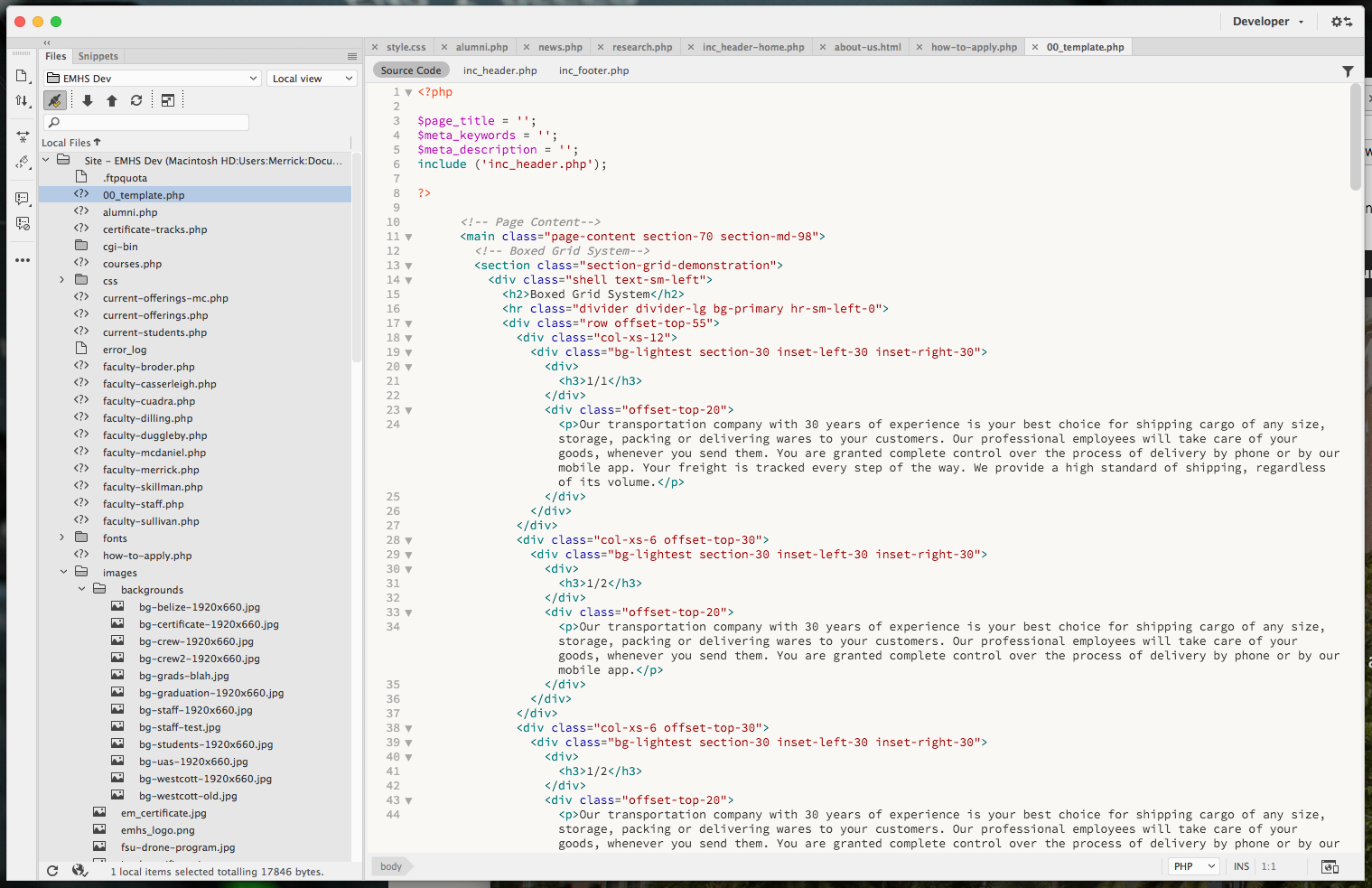 11 May 2017
Our primary web presence - em.fsu.edu - has gotten a new look and new content. Designed to work on a variety of devices, the new site looks and functions great on your laptop, your iPad, and your phone.
The new site is cleaner and easier to navigate, and help current and prospective students find the information they need to be successful.
As we continue to roll out new features, let us know what you like and what you don't. You can reach us at emcertinfo@em.feu.edu or via Facebook.
Dogs and Drones
---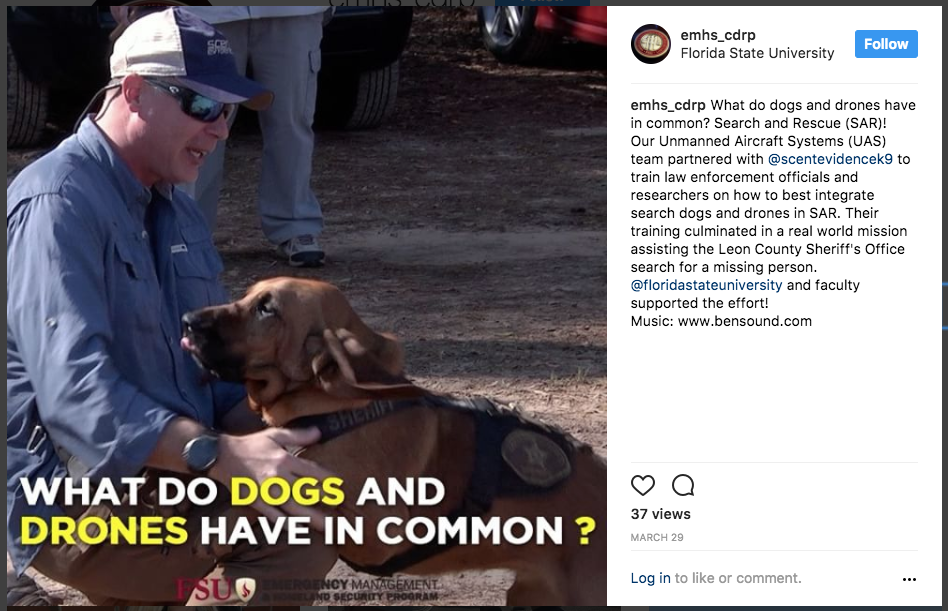 1 May 2017
This Spring, FSU EMHS worked with Scent Evidence K9 to conduct the second annual Canine and UAS search workshop. This unique event combined tracking and trailing canines from all over the southeast with small unmanned aircraft systems (sUAS) from EMHS's Disaster Incident Research Team to exercise and develop techniques for combining these tools.
Through training seminars, live tracking in the field, and workshops to develop tactics, EMHS and Scent Evidence delivered a valuable experience for teams. The training event culminated in a real-world search, working with the Leon County Sheriff's Office and the National Center for Missing and Exploited Children.
This program gave over a dozen EMHS students a taste of this unique skill - and again provided opportunities for students to Get More than a Degree.