David Merrick
---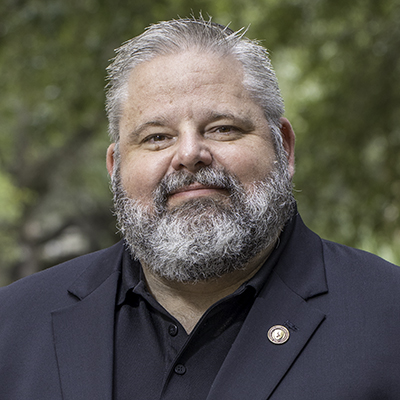 Director | Faculty Administrator
dmerrick@em.fsu.edu
850.644.9961
644 Bellamy
David Merrick is the Director of the Emergency Management and Homeland Security Program and the Center for Disaster Risk Policy at Florida State University.

Mr. Merrick developed and oversees EMHS's Disaster Incident Research Team, which deploys to disaster impact areas to perform field research on disaster and emergency management. This team has deployed to disasters large and small to assist state and local agencies, perform data collection, and complete research projects.

Mr. Merrick developed EMHS's unmanned aircraft systems (UAS) courses and curriculum. He is part of the team that developed the EMHS/CDRP UAS capability for use in disaster management, and has led teams performing this work in Florida as well as Texas, Haiti, Belize, and Jamaica. The team has deployed to hurricanes including Matthew, Harvey, Irma, Michael, Dorian, Ida, and Ian, as well as other incidents such as missing persons, flooding, the 2018 eruption of Kilauea, and the 2021 Surfside condominium collapse. He spearheaded the creation of multi-discipline UAS teams across the state, including Florida UAS 1 based in Tallahassee.

As part of the applied research group at CDRP, Mr. Merrick has extensive experience in emergency management training and exercises for all levels of government, facilitated plan review and development, and has provided technical assistance on a variety of government and private sector EM projects.

Outside of emergency management, he has over 15 years of application and database development experience on a variety of platforms. He is well versed in agile development practices and has overseen the creation and integration of successful software solutions for a range of clients and markets.

Mr. Merrick is married with two children and lives in Tallahassee, Florida. He has a bachelor's degree from Florida State University and a Master's in Humanitarian Relief and Disaster Logistics from the Florida Institute of Technology.
Interests
Unmanned Systems in Emergency Management, Remote Sensing in Disasters, Infomation Systems, Social Media in Disasters, Logistics, Disaster Planning
Courses Taught
Foundations of Emergency Management, Emergency Management Planning and Policy, Disaster Systems, UAS in Emergency Management, UAS Application and Policy
Faculty and Staff